To ensure that every consumer can buy vegetable oil of the right quality, both producers and suppliers need to pay attention not only to the oil quality but also to its proper transportation. In this article, we will look at the main requirements for sunflower oil transportation.
Basic requirements
Vegetable oil is composed mainly of healthy but less stable polyunsaturated and monounsaturated fatty acids, which is why it is particularly sensitive to heat and light.
Temperature conditions
Extreme temperatures lead to changes in the consistency and quality of sunflower oil. Oil changes color and flavor at high temperatures, and thickens or hardens at too low ones. And it doesn't matter whether we're talking about a whole tanker of oil or sunflower oil in a 5-liter plastic bottle.
The temperature regime should be adhered to as much as possible to minimize oxidation and prevent crystallization during transport.
Transportation temperature

(favorable temperature range)

15°C

(5-26°C)

Crystallization temperature

-16 …-18°C

Pumping temperature

≈15°C
Important temperature ranges for the transportation of sunflower oil. Depending on the specific conditions of transportation, the temperature may deviate from these values
Light protection
Good cooking oil has a high content of unsaturated fatty acids, which are sensitive to light. Light contributes to oil oxidation, reducing its stability and shelf life, and can cause discoloration and the formation of carcinogenic radicals. Therefore, when ordering sunflower oil wholesale, it should be delivered in opaque or light-tight tanks protected from sunlight.
Protection from air access
Oxygen is one of the main catalysts for oil oxidation, which leads to changes in the color, smell, and taste of oil and a decrease in its nutritional value. Sunflower oil should be shipped in hermetically sealed containers and, if possible, pre-filled with inert gas (nitrogen or carbon dioxide). Plastic oil bottles should also be sealed.
Ensuring container stability
You should use specialized containers that are resistant to external factors, mechanical damage, and vibrations. Containers are secured in such a way that they do not slip in the hold (during sea transportation) or on the loading dock and are not damaged. When transporting sunflower oil in glass bottles, it is important to place the containers in such a way that the oil bottles do not break during transportation.
It is also essential to minimize the space above the sunflower oil in the container to prevent extra movement during transportation. This may negatively affect vehicle stability, especially when turning for trucks and trains or when the vessel is tilting.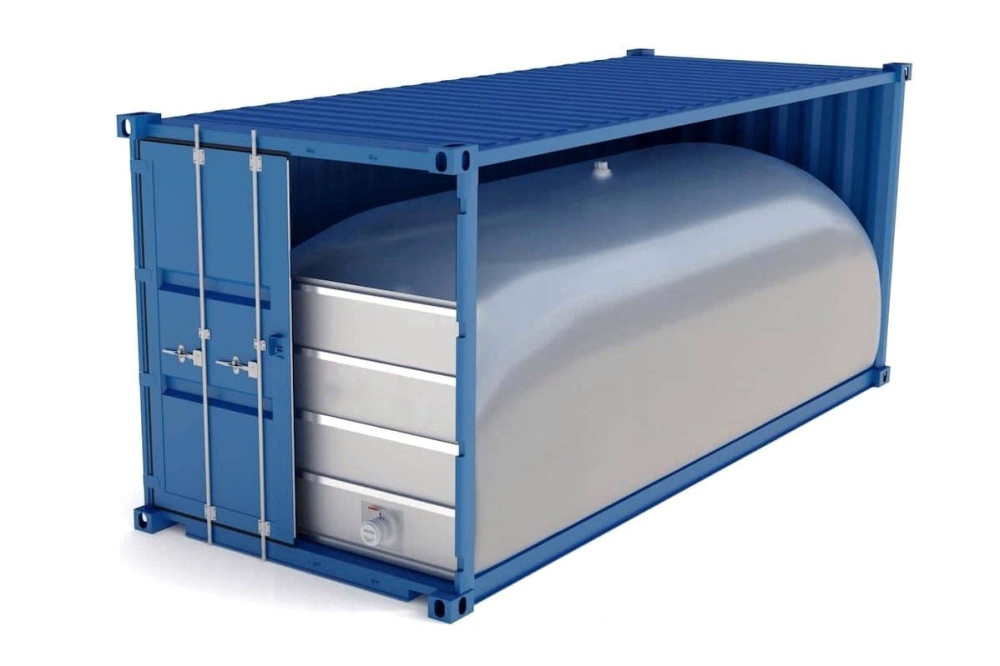 Flexitank is one of the options for the transportation of vegetable oil. This is an elastic, sealed tank that allows you to transport liquid cargo without the risk of damage and leakage
To guarantee the safety, quality, and integrity of sunflower oil, you should look for a reliable supplier from which you can not only order sunflower oil, but also be sure of the quality of transportation.
Impulse Trade is an expert in supplying vegetable oil to international markets. We take care of all logistics processes related to the transportation of sunflower oil to the customer's warehouse. Due to our many years of experience and knowledge, we provide the best conditions for oil shipment, which are not only beneficial in terms of price but also guarantee the safety of the goods.