Sunflower oil is used in various food establishments, ranging from restaurants and cafes to hotels and fast food. The choice of the right packaging for sunflower oil affects its quality and shelf life. Let's look at the options for sunflower oil packaging, taking into account the needs of food service establishments.
Health food restaurants: glass or plastic oil bottles
Healthy eating establishments emphasize the quality of food and natural ingredients. So what kind of packaging should they choose?
Small glass oil bottles. They are suitable for storing unrefined sunflower oil or for preparing flavored oils with aromatic herbs. Preferably, the bottles should have a built-in dispenser to control the amount of oil used in each dish.

Plastic oil bottles. Healthy eaters don't cook fried foods, so they need very little refined sunflower oil. For this intensity of use, it is better to use oil in 1-3 liter bottles.
To preserve its beneficial properties the oil should be stored in a cool place and protected from direct sunlight.

The dispenser ensures fast and even distribution of oil on the food and prevents overuse of oil
Classic restaurants: what is the optimal bottle size for refined sunflower oil
In this category of establishments, the menu is much wider. It includes fried dishes, sauces, and pastries that require oil to cook. We recommend that you calculate the amount of oil you need in advance and keep a small supply in your kitchen. This will prevent you from running out of oil in the middle of the day and still having a lot of hungry customers.
Refined sunflower oil in 5-liter bottles is best suited for use in restaurants. The use of glass bottles is also possible. For example, to serve on the table or to make your seasonings and sauces.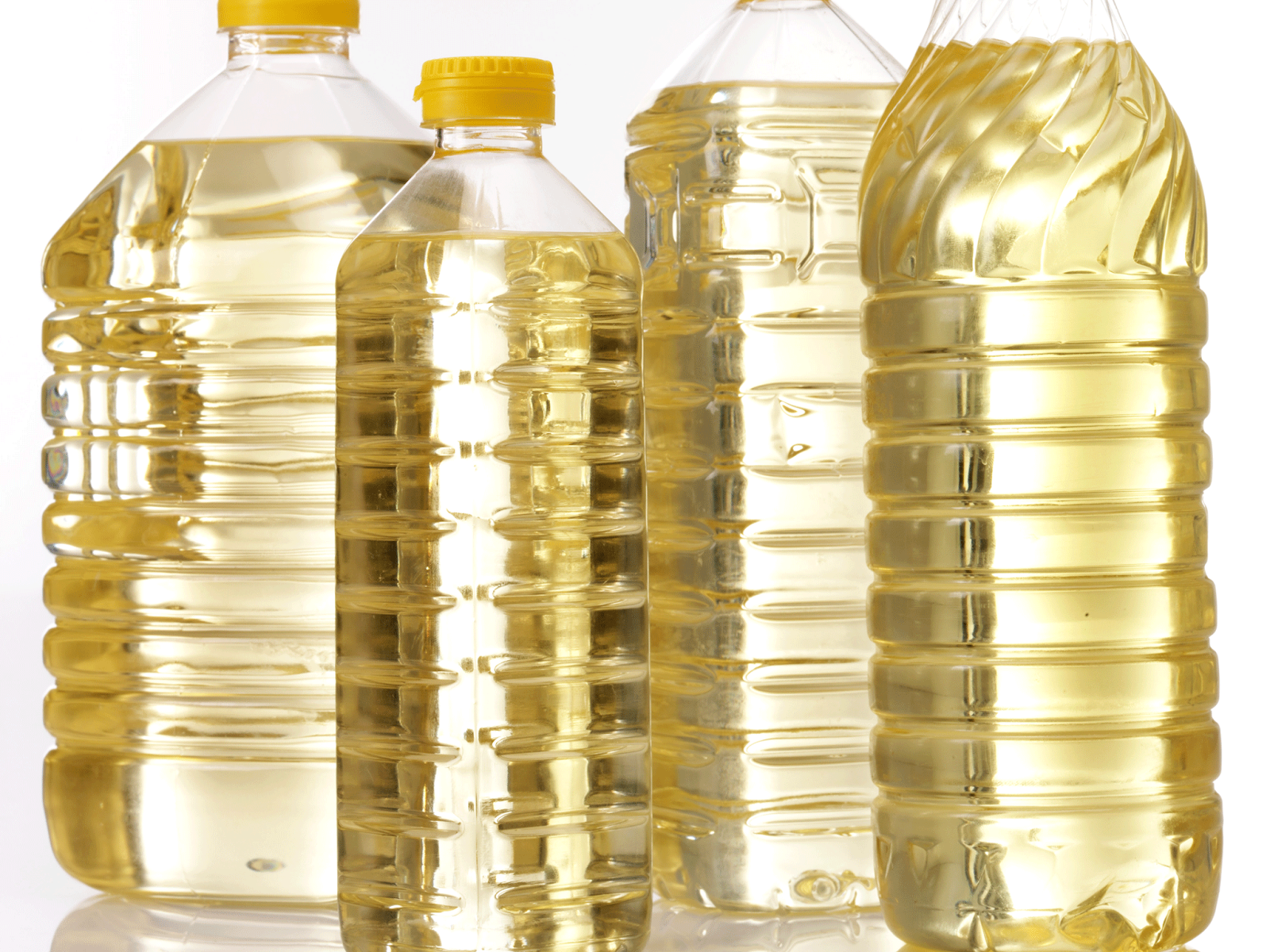 Restaurants and cafes can order oil in packages of 3, 5, or 10 liters
Fast food establishments: what kind of packaging for frying oil to choose
In fast food restaurants, oil is perhaps the most important product. It is used in large volumes for frying and deep-frying. In this case, we recommend purchasing sunflower oil in 10-liter or 5-liter bottles.
It should be noted that fast food outlets need to use special high-temperature oil for deep frying. It has a higher smoke point, so it does not foam and does not form harmful compounds during cooking.
Another option is using high-oleic sunflower oil for frying. Due to its high oleic acid content, this oil is more stable. This means that you can use it for a long time without having to replace it.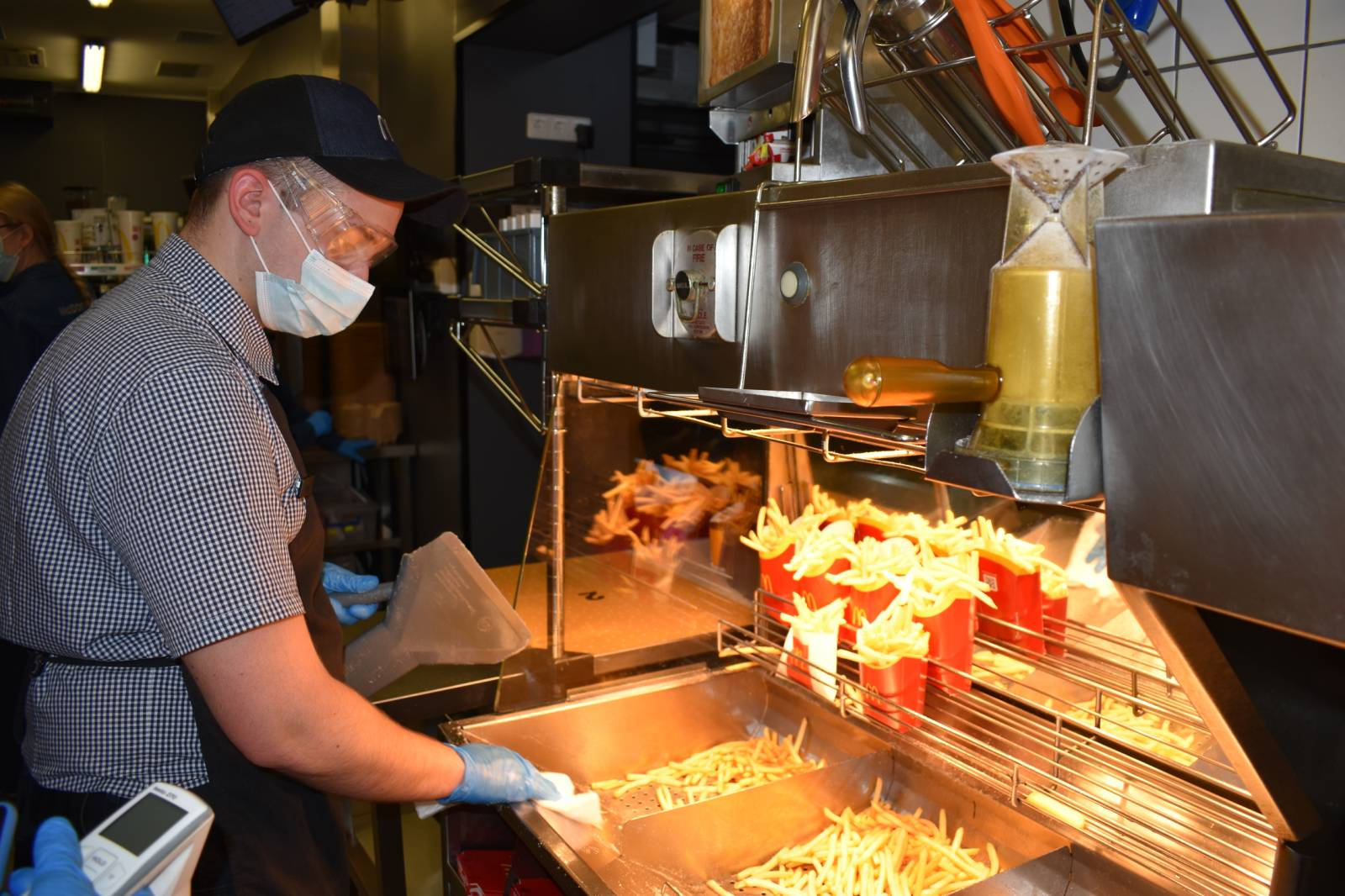 Refined sunflower oil for deep frying has a neutral taste and aroma, so it does not affect the taste of the finished dish
Regardless of the type of food establishment, it is important to monitor the quality of the oil, store it following the manufacturer's requirements and recommendations, and replenish stocks on time.
Impulse Commodity Trading offers high-quality and certified refined sunflower oil for frying and cooking. We will help you choose the best packaging option that meets your needs and requirements, and organize delivery to your warehouse.
| | |
| --- | --- |
| öle zum braten | 4400 |
| Sonnenblumenöl zum Braten | 1600 |
| hocherhitzbares öl | 880 |
| raffiniertes sonnenblumenöl | 720 |
| high oleic öl | 620 |
| ölflaschen glas | 380 |
| unraffiniertes öl | 220 |
| sonnenblumenöl 10 l | 90 |
| raffiniertes sonnenblumenöl zum frittieren | 70 |
| ölflasche plastik | 50 |