Choosing the right frying oil based on your menu, clientele, and process can help your restaurant save money, improve the flavor of your food, and get rave reviews from your customers. Let's take a look at what to pay attention to when choosing a frying oil.
Taste characteristics
To ensure that fried foods have a clean, neutral flavor without dominant aromas, it is better to use oil with a neutral flavor, such as soybean, corn, or refined sunflower oil. These oils have mild flavoring properties, which allow the dish to reveal its flavor. Now you won't have to wonder what kind of oil to use for French fries to avoid spoiling the taste of the finished dish.
The smoke point of oil
The smoke point determines how hot an oil can be before it catches fire. Deep frying oil should have a smoke point of 177-204°C.
If you fry in oil with too low a smoke point, the oil will break down, release toxic substances, and eventually start to smoke, which can even lead to a fire. In addition, cooking in oil with a low smoke point gives the dish a burnt flavor and spoils all the visitors' impressions of the restaurant.
| | |
| --- | --- |
| Type of oil | Smoke point (°C) |
| Refined sunflower | 227-254 |
| Soybean | 234 |
| Corn | 230-238 |
| Rapeseed | 204 |
| Olive | 190-243 |
| Unrefined sunflower | 107 |
Table comparing smoke points of various oils
Availability
Using rare or expensive oils can lead to unnecessary financial costs or supply disruptions. Cheap vegetable oils are usually not sufficiently refined and have a low smoke point. It will spoil the quality of the food in the restaurant.
It is worth choosing refined oil with a smoke point of about 200°C from the middle price segment and focusing on finding a reliable supplier with all the logistics routes in place.
So which oil is the best to use for deep frying?
Impulse Trade experts recommend using refined sunflower oil for deep frying. It meets all the criteria for safe frying.
Deep-fried sunflower oil
The company's product range includes sunflower oil for frying and deep frying. It is a special oil designed for long-term frying at high temperatures. It contains a defoamer that reduces the oxidation rate and extends the life of the oil. It means the oil remains stable for a long time without losing quality.
Deep frying oil has a higher boiling point than regular sunflower oil and does not foam or smoke during frying. It ensures pleasant working conditions in the kitchen, clean equipment, and the absence of additional unpleasant smoke.
High oleic sunflower oil
Refined sunflower oil with a high content of oleic acid is also suitable for use as a deep frying oil. High oleic oil successfully combines beneficial nutritional features with frying properties.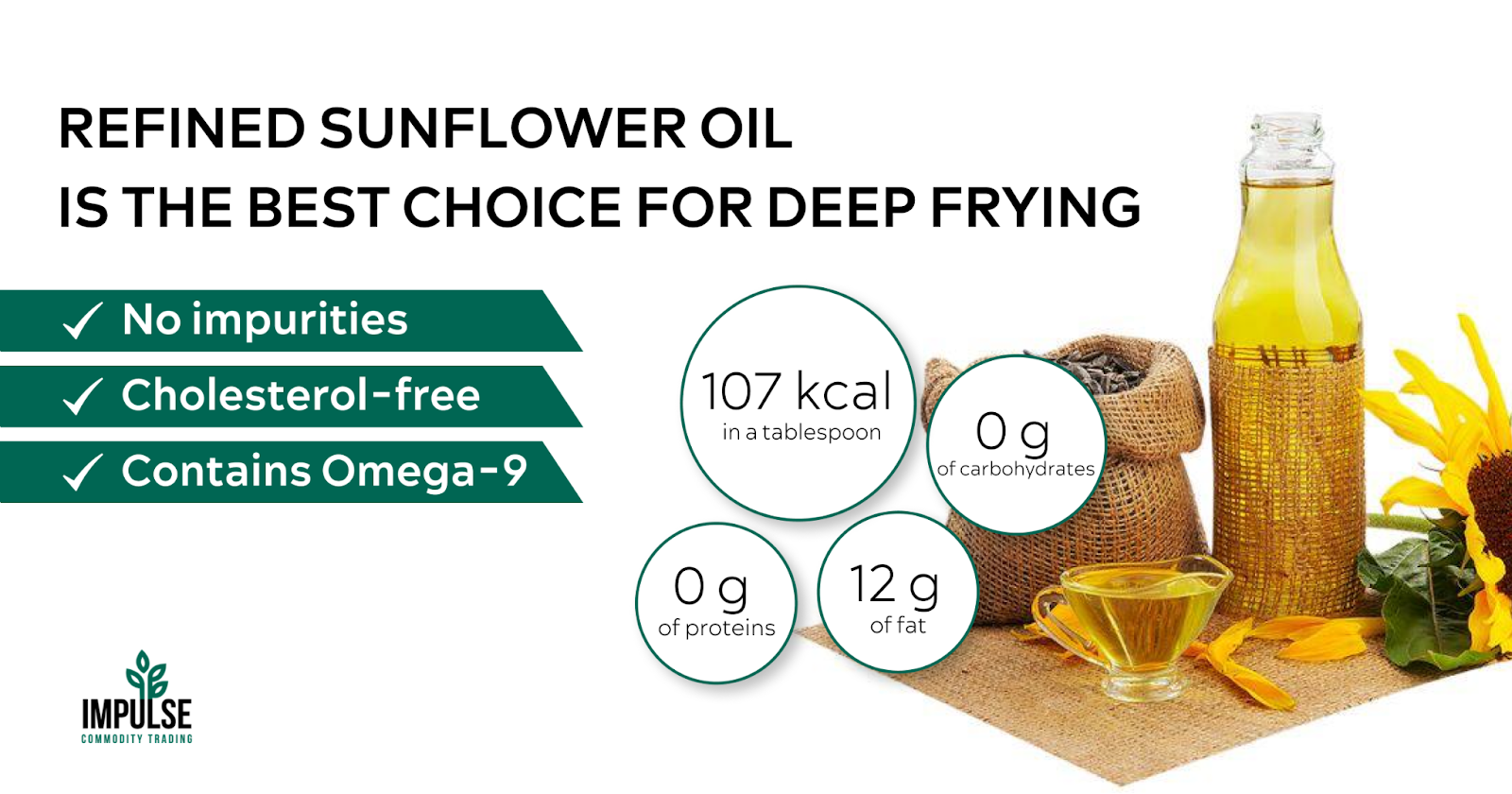 Sunflower oil for frying contains polyunsaturated fats and monounsaturated fats, which increase the level of "good" cholesterol and reduce the risk of heart disease.
High oleic sunflower oil has a smoke point of 235°C and can withstand high temperatures without rapid deterioration in quality. It allows restaurateurs to use it for a long time without the need to change the oil frequently. Due to its stability, high oleic oil does not smoke, foam, or form harmful substances during frying. And the increased content of Omega-9 influences positively on the customers` health.
Generally, refined sunflower oil for deep frying is used for cooking various products, including meat, fish, vegetables, and others. It is well suited for a variety of dishes and provides them with a crispy and tasty appearance.
Impulse Trade is a reliable supplier of sunflower oil for HoReCa establishments. We have a well-established logistics system and deliver products to the client's warehouse, and we can organize the customs clearance process. In general, we take care of all the hassle of supplying products and always provide our customers with quality goods and convenient service.